Hannah Edens
April 14, 2016
In recent news, NY Times Business and Financial Section covered the business backlash on the law recently passed in North Carolina eliminating anti-discrimination protections based on sexual orientation. Deutsche Bank, the "German financial giant that has significant business in the United States, said that it would freeze its plans to add jobs to the state of North Carolina, in response to the bill that was passed last month. Deutsche Bank had planned to add 25o positions to its technology development center in Cary, North Carolina, that currently employees 900 people. The co-chief executive of Deutsche Bank, John Cryan, explained that these plans had been delayed due to the new law, which bars transgender people from using bathrooms that do not match their birth gender.
Another company, PayPal, an electronic payments company, also announced that it was not going to add the 400 jobs planned, in protest of the law. Many other executives of corporations, such as Biogen, American Airlines, Apple, IBM, and Dow Chemical, have also added to the multitude of voices of opposition against this law. The passing of this law could have a serious effect on North Carolina, as it dubs itself a hub for tech companies and start-ups. This article and response demonstrates the power businesses hold over economies and jobs.
The incredible pushback this law has gotten from many businesses represents something we talk about in class a lot: social justice and corporate social responsibility. These companies, refusing to put their business in a state whose laws they don't agree with, are flexing their ethical muscles and taking a stand for social justice issues. By raising such a fuss and making their feelings known, businesses have real power to make changes in these situations. My hopes is that North Carolina, first, realizes that the law passed is a ridiculous step in the wrong direction, and second, realizes that there could potentially be real effects on the economy in the long-run if businesses continue to refuse to do business in the state.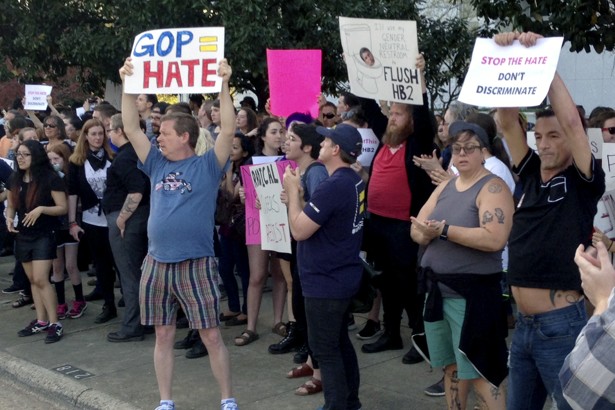 Link to article: http://www.nytimes.com/2016/04/13/business/dealbook/deutsche-bank-freezes-north-carolina-expansion-in-protest-of-bias-law.html?ref=business