Two years ago, led by former boss Sarah Harrison, the gambling commission said it would fight against ICE London's use of scantily-clad models to promote casino games, in an attempt to oppose sexism. However, until today this phenomenon is still popular in the industry. The gaming watchdog has also declined to criticize the common use of scantily-clad models to promote at the large-scale trade events in the gambling industry. Neil McArthur, the gambling commission's new boss, said in an interview:"It is a matter for the organizers to enforce that code."
This year's in the conference, the Slovenian firm Interblock adopted bunnies' dressing women to promote sales of casino games. There were also many scantily-clad models handing out leaflets and giveaways.
One conference delegate from Italy said in an interview that he did not think it was unethical to hire scantily-clad women to promote companies and products. He said the group's events are more like a music festival, which makes him more enjoy the conference.
Clarion Gaming, which is the host of the meeting of the gaming activities in 2018, added the pole dancing and suffered the negative reports so that they introduced their code of conduct in 2019 – "partial or total nudity or overtly sexual or suggestive clothing or marketing the methods will not be allowed". They said the company has conformed to the regulations but kept silent about the one violation.
At the same time, the meeting also drew the attention of a Labour MP, Carolyn Harris claimed, "Time and again, this industry appears to be lacking in morals and decency…This kind of marketing is outdated and unnecessary and I order to hope that Clarion who organized the event, think twice before doing this again." She says people don't focus on the women's income in the gaming industry, which is the highest in the UK, and in the event, while men dressed in custom suits, women wear only a swimsuit. She thinks it is the organizers' job to implement the published code of conduct, and that it all about creates a safer environment in gambling for consumers.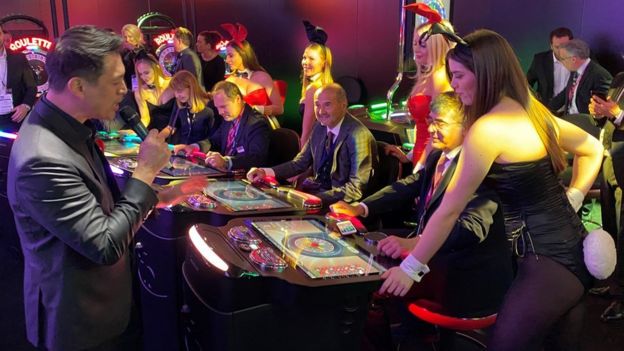 https://www.bbc.com/news/business-51390091